Living in the Regent Park Community



Be part of the evolution of Regent Park, in a residence brought to you by the team that reimagined the surrounding community. Residents benefit from an ideal location, only a short TTC commute to the downtown core, and easy access to the Don Valley Parkway and Gardiner Expressway, all while living in a vibrant walkable neighbourhood with lots to offer residents who seek both urban amenities and a warm sense of community. Come home to the best the city has to offer, right at your doorstep.


This is your place evolved.
Living in the Regent Park Community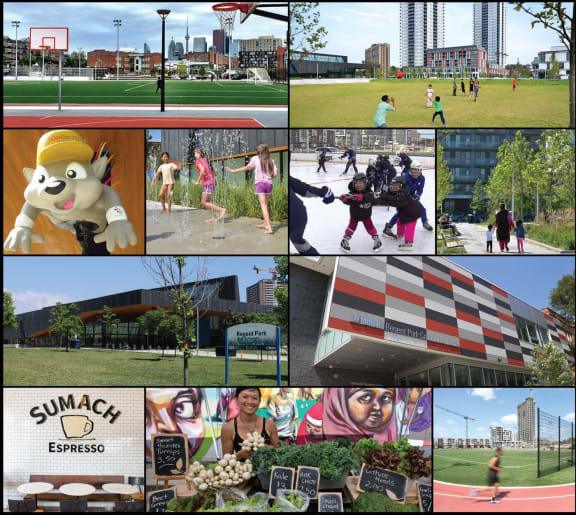 Love where you live in Regent Park
Daniels has partnered with Toronto Community Housing to revitalize53 of the 69-acre Regent Park community that will now introduce Evolv -a state-of-the-art purpose-built rental residence for you to call home. EVOLV will connect you to everything that matters in the heart of Toronto's downtown east. Having access to the Regent Park Athletic Grounds at your doorstep is an unbeatable feature and convenience. The downtown core is just minutes away, providing you with an array of choice. Evolv is the best rental location in the City of Toronto today.
Track, basketball, soccer, cricket and hockey at your doorstep.
Swimming at the Aquatic Centre only a block away.
Local arts and culture bursting at every turn.
Streetcar to the Financial District in under 10 minutes.
Eat, drink and socialize in restos, bistros and coffee shops.
Shop local in Cabbagetown, or a quick trip to CF Toronto's Eaton Centre,
Leslieville, Riverdale, and The Distillery District.
BE CONNECTED TO EVERYTHING THAT MATTERS
Having access to the Regent Park Athletic Grounds at your doorstep is just the start of a brilliant, walkable lifestyle. Explore the map to meet the rest of the neighbourhood.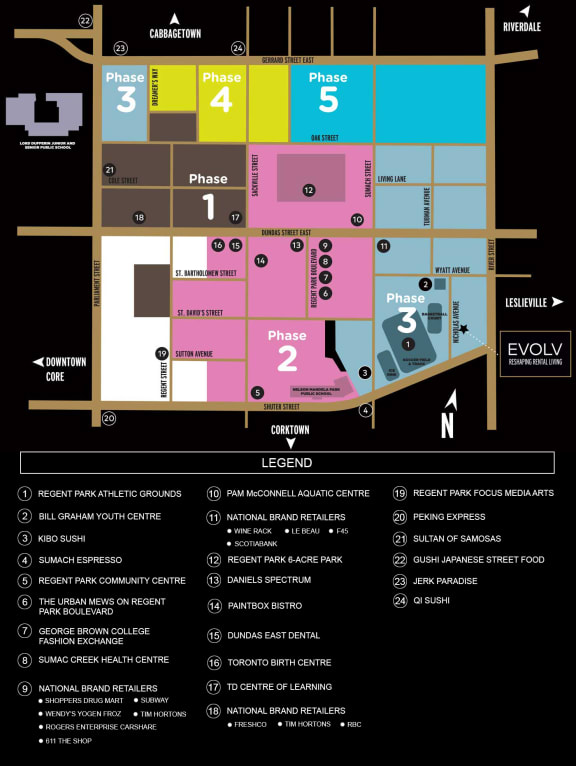 The Evolv residence from above
Evolv is the gateway to Regent Park located at the northwest corner of River and Shuter Streets. Offering an array of resident-exclusive amenities, you're going to love the 7th floor party room, BBQ terrace and community gardens. The kids will love their outdoor terrace on the 2nd floor that overlooks the Athletic Grounds. Enjoy!